Believe in Yourself Sunder from Imphal Manipur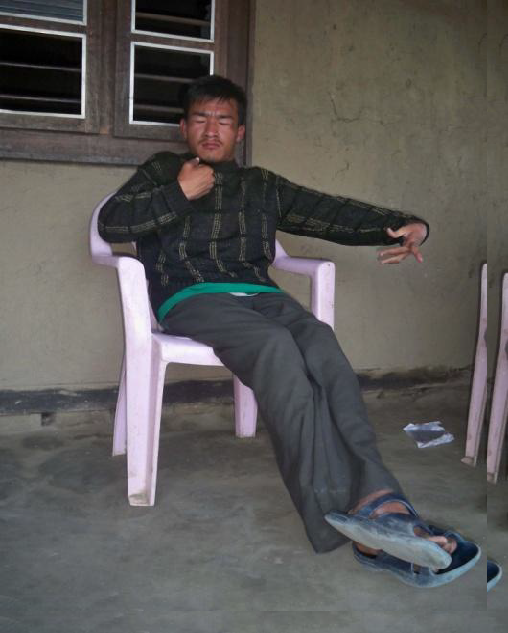 Sunder Chungkham Meitie ,born with cerebral palsy affecting both his upper limbs and hence he has to rely mostly on his feet for most of the ADL activities. Nobody thought he could study and lead an independent life. Being the first born child in the family everyone felt sorry for him .His severe disability was a hindrance in his education. Though he is a foot writer , his writing is not very legible and his speech impairment made it difficult for teachers to give oral test. Even he could not write fast with his feet and hence could not complete his examination in the allocated time which was same as others.
Despite all odds, he managed to pass Matriculate examination in 2nd division, in 2008 from Pishakmacha Vidya Mandir, Mayang Imphal . Presently he is studying B.Arts/ second year in Mayai lambi college
In spite of severity of his disability, he has achieved so far in a general school without the help of special educators or resource rooms or barrier free environment, setting an example to SSA authorities in the state, that it is possible to study in general setup even without provision of special adaptations only if given a chance.
 
If without the facilities to be provided under SSA , Sunder can achieve so much , think about the hundreds of disabled children who can benefit immensely through SSA in our state only if it was implemented properly. All it requires is dedication and initiative on the part of the teachers and supportive parents,
Recently under PMEGP , Sunder manage to secure a loan for blacksmith cottage industry which he runs with the help of his family and hence is already economically stable and at the same time pursuing his education.
He now lives a happy and a confident life and has bright future ahead. His philosophy is that nothing is impossible and don't get weighed down by what people think and say .Believe in yourself and have courage to at least try, if not always succeed.
Posted on : 2016-09-20