Never to Give up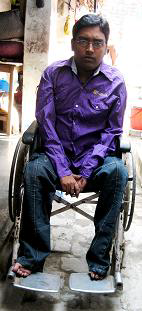 I am Saheb Islam son of Md. Taimur Sekh, Mahesmati, English Bazar municipality, District Malda in West Bengal.
My story begun when I went to have a bath in nearby pond with my mother. After having bath in that pond I was caught with high fever. My parents took me to doctor who gave me Polio dose there. After having that Polio dose, I became senseless for three days. My parents went to many doctors. I got two months' long treatment in Kolkata and my sense came back. Doctor told my parents that their son has become a disabled person. They said, it was not possible for them to do anything more.
With the support of family members, I become an arts graduate facing many problems in my life. I have done basic courses on computer also.
My primary school life was spent smoothly. Next, I had to sit for admission test for taking admission in class Five. In that test I got good result but my admission was denied due to my disability in that school. I was not being able to handle my books and any urinal at school – This was the logic on the part of that school. So school authority did not give me admission there.
My aunt then appealed to the District Inspector of Secondary School, Malda. He arranged for my admission. After getting admission in the school I had to face half yearly examination within two days. Teachers did not like me. All the students were healthy and they could easily note down, anything which the teachers wrote in the blackboard, but I could not. I felt uncomfortable in sitting on the bench. Gradually, I adapted to the condition.
My companions helped me a lot. They helped me to go to the field where they used to play . Some of them also played with me and informed me if school was closed early. My mother or aunt took me from the school.
During Madhyamik examination. I was not given any extra time to finish my paper. In spite of such barrier I passed Madhyamik from D.N. Saha School. Next I was admitted to other school where classroom was allotted in the first floor of the school.
I never have any aid, compensation or allowance from government from Class five to Graduate. I and my family members tried hard to get such support but all went in vain. We appealed many political leaders but nobody paid attention to our appeal. We got only hollow promises from the leaders. At last when Councillor was changed, then I got support i.e. allowance. I sat for government service but never got job. Recently, I have written to the Hon'ble Chief Minister but no reply has come till now.
My mother and aunt always help me from when I wake up in the morning to going to bed at night. From urinal to bath, from wearing my clothes to seating me on the wheel chair – they remain as my shadow companion. After they get me ready, and I sit on my wheel chair, my friends give me company. I pass my times with them and got entertained.
Recently I have been awarded by Malda Sahitya Patrika for composing poems.
I face problems till today. I have to climb stair cases if I wish to meet any officers.
In spite of being a disabled person, I feel happiness because my family members are always with me. Their presence and supports provide me enough strength to conquer any challenge. My life has taught me to never give up in life. I will try my best until I get government service.
Posted on : 2016-09-23