Towards Inclusion: Ratna Das from our Samarth centre at Agartala
Towards Inclusion: Ratna Das from our Samarth centre at Agartala Ratna Das was enrolled in the 'SAMARTH' project managed by Abhoy Mission, Agartala, Tripura in the year 2004. Then she was 6 years old and living with Cerebral Palsy having stammering problem with mal-nutrition. She was born in a BPL family located in remote Autonomous District Council village under Khowai District. Her father is a man of low vision who earns his life by working as daily labour. At the time of enrolment, she could not lift her body in straight posture and she used to move with the help of all four limbs. She was dependent to others for her daily living activities.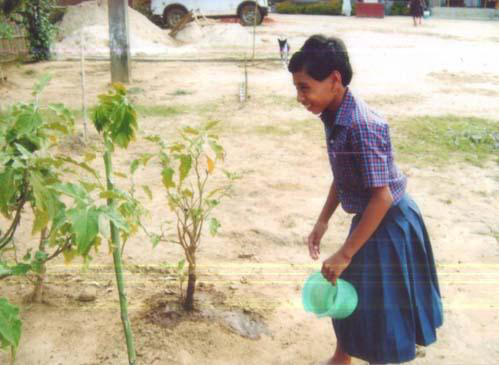 She was given physiotherapy. At the same time, emphasis was given on training of daily living activities. When she was able to lift her body herself and become able to walk with her lower limbs, trainings on reading, writing and house hold activities begun. Having observed the development of the condition of Ranta, she had got herself admitted in a general School. At the early stage, she was taken to school on the wheelchair with the help of her parents. Now she has been capable to go to school independently on her own effort. Now Ratna can read Bengali s and write in Bengali. She can write her name and address in English. She can solve simple arithmetic problems like addition and subtraction. She can do house hold activities like house cleaning, washing clothes, arranging beds etc.
she supports other children as and when necessary. She takes part in different co-curricular activities like drawing, singing etc.
Posted on : 2016-09-23