Kripa Venugopalan Journey
Kripa,a person with Cerebral Palsy also has visuo-perceptional problems, which are related to constant moving of eye balls. Her major impediment for learning as the common man would understand is that she does not have necessary focus to develop reading and writing skills. while her short memory is indeed deficient, the long terms retention is exceptional. She is remarkably good as an 'auditory learner'. She learns by rote and when the subject matter is repeated several times, she picks up and is able to retain it better than what a normal person does. She is preparing for the Xth Standard examination through open school. Till now, she has already cleared three subjects and she will be appearing for the fourth one during the next month. The tutor, who prepares her for the Xth Standard examination deserves a special commendation for his stupendous effort and the noble service. Kripa has travelled a long way in the path of recovery and self development. From the state of total immobility as a small child, she has attained the ability to walk around the house using a walker without the assistance of anybody. She walks short distances with caliper and elbow crutches. All these achievements are mainly attributable to her willingness to do physiotherapy and her perseverance and desire to improve which made 'impossible' into a reality. The efforts of grandparents, teachers of a Special School and the Physiotherapists need special mention in shaping her to her present level of recovery.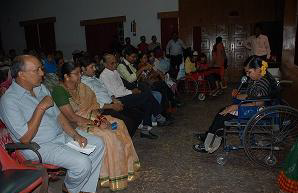 As a child, all the milestones, which are indicators of the child development, were perceptibly delayed. Her verbal communication started late. Today, she can express herself quite satisfactorily in languages such as Hindi, Tamil, Bengali and English. In general, her linguistic skills are commendable.
She loves music. Her skill to pick up the tunes, learn the songs and sing under any situation deserves commendation. In spite of being a south Indian, she has developed an exceptional taste for Rabindra Sangheet i.e. Tagore Songs.
 
She underwent a seven year programme on Rabindra Sangeet at Tagore Society of Music and Arts, Jamshedpur and successfully acquired a Diploma in Music. During the programme, she competed with non disabled children and distinguished herself as the Best Student for four consecutive years by securing first rank among the students of seven branches of the music school.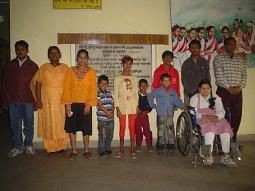 She has performed several musical events in Jamshedpur and bagged awards for the musical talent. I am proud to report that at Jamshedpur, she is renowned for Bhajans and songs in Rabindra Sangheeth.
She bagged a District Talent Award for her music and she was one of the ten winners from various fields at the District level competition. She sings in many languages such a Tamil, Bengali, Hindi, Telugu, Marathi and Kannada.
She has given performances in All India Ratio, Jamshedpur . Kripa is a hard working child, with positive frame of mind and a strong will to succeed.
Kripa radiates confidence and her pervasive smile instills happiness in others who are associated with her in the developmental process.
Today, Ms Kripa Venugopalan is a child with new found hope and a new persona. Her melodies sound even more melodious than before, because there is now a hope in this differently abled person that she would be able to to what she has been longing to do. We, in the family, see a different and more confident as well as self-assured individual walking towards her freedom from the walker and crutches. Her rehabilitation has been both remarkable and reassuring. Great are those who contribute to the development of these special children in their challenging journey.
Posted on : 2016-09-23