Inclusion and Community Participation Mr. Akhil Pasha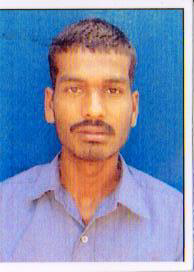 Mr. Md. Akhil Pasha, a person with mental retardation is the real inclusion into the Society as a productive member with independent living in the rural environment. The process of transformation and capacity building is innovative, interesting and self-explanatory for several myths and barriers.
He born in a rural village in vulnerable circumstances with developmental delays and key challenges includes: delayed birth cry and milestones. In addition, poor awareness and poverty further deepened the vulnerability. As there was no option, he continued education in the normal school up to 7th class and later left it due to poor education and barriers. Manochetana identified him in the year 2005 as child with mental retardation and started providing training and rehabilitation services suiting to his skills and interest. He was the leader of SHG and actively involved in forming several such groups which finally lead for their development both socially and economically. Training in office work made him to become the employee with Manochetana.
His performance is well appreciated by his co-employees in the Organization as he is so systematic in doing the works assigned for him from time to time. He is earning his livelihood and achieved economical empowerment. Significant change in his attitude and behavior lead to marriage with a non disabled girl by suitable counselling in the year 2007. He is blessed with two daughters and they are active and quite normal in all aspects. This supports the view that many things are not connected with mental retardation and further minimizes the myths. He is with family and aged parents. He is the only son and the worry of their parents that "what will happen to the child after us?" got minimized significantly. His transformation and capacity building as inclusion became role model and gave answer for several myths of disability. By availing the benefit of Niramaya, he is the ambassador for taking the schemes and benefits of National Trust to the un-reached targeted groups. He is looking forward to becoming self employed.
He is confidant to get what he is supposed to get with right based strategies and interventions and further to motivate others to move forward with positive attitude. Community has accepted him along with family members to be part of its development with full participation. Among the stakeholders, particularly parents and people with disabilities take him, as a path finder for channelizing their own problem solving strategies & interventions.
To sum up, Mr Akhil Pasha is the transformed person in-terms of: enhanced capacities, employee of an NGO working for the same group of people, got married, leading an independent living within the community, supporting aged parents as the only son, self explanatory for several myths. He is a role model for other parents and community members, ambassador for disseminating the National Trust message and schemes. He also plays a role of care giver and thus fits into the success model of real inclusion matching to the existing paradigm shift in the concept and disability rehabilitation strategies & interventions.
Posted on : 2016-09-23