A Gyan Prabha Scholarship Holder- Scheme of National Trust
Mr. Omkar – Chartered Accountant SCALING NEW HEIGHTS Today being a Chartered Accountant from a reputed organization and getting the degree from Mr. K. Rahman Khan, Deputy Chairman of Rajya Sabha. Reaching this height has not been an easy journey for me and my parents. When I was young my father took me from school after school for getting admission in so called reputed and sophisticated schools, where every time I was refused, admission. All these experiences made me realize that I am different from others – a child with Cerebral Palsy which means I am crippled for whole life. Fortunately I could gain admission in Municipality School. I can say I was fortunate as nobody cared about my disability and I was one of them, I just couldn't do some things as they do. By the time I reached 10th standard my spasticity become more. I was able to walk only with full support of my parents. Major surgeries took place on in 2006 and another in 2008. Due to these surgeries and regular therapies I could walk with the help of crutches. I took commerce stream in my graduation, but it was not a easy journey, the college was not disabled friendly and most of the classes took place on top floor, which I managed with great difficulty. A graduate disabled doesn't have many options, fist to start a telephone booth or appear in competitive exams to get govt. job in reserved quota. But I choose another one doing Chartered Accountancy.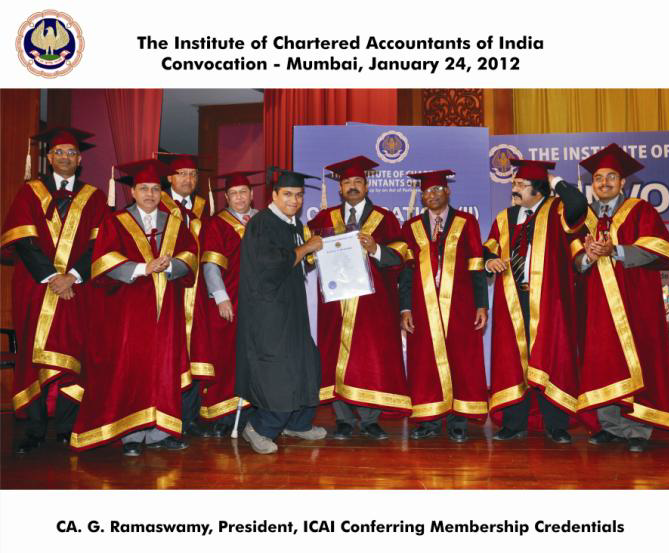 Mr. J.B. Chavan a senior Chartered Accountant accepted me as his Assistant. I gained various kind of practical experience under his guidance.
My coach Mr. Zad advised me to think of doing Company secretary Course. This course is equally valued & difficult like Chartered Accountancy course. I decided to give it a shot & succeeded.
I applied for campus interview organized by CA institute. I got shortlisted by 5 to 6 renowned companies in 1st round. I was called by Hindustan Petroleum Corporation Ltd. I was Selected from 3500 non disabled Chartered Accountants this is another victory of a disabled person like me. I was now posted at Sewree Mumbai as an "Accounts officer". I am very happy to work their; as all the co-workers are very nice & cooperative.
I am a Proud Person who has completed: 1. Chartered Accountancy 2. Company Secretary [Got membership also No 28555] 3. Master of Commerce 4. Bachelor of Commerce. 5. Working efficiently in HPCL as an officer. I am also interested in social activities and some of my achievements are 1. Donated Blood voluntarily 30 times till now. 2. Received "Sudhir Smruti Puraskar" for outstanding achievement in blood donation. 3. Active member of "Anand Pariwar" body associated with National Trust 4. I was actively involved from the inception of body "Adharstambha" Work voluntarily, regularly for preparation of accounts, give guidance exercised etc 5. Founder with other colleague 2 groups on Practical Banking & Business Entrepreneurship I was the only disabled member in those groups – In these groups we created small business & donated the profit to old age homes. 6. Completed course on practical banking at Bank of Maharashtra Satara Branch. 7. Successfully completed 1st level exam in "Tabla Wadan" by Gandharva Mahavidyalya Pune. 8. Currently working voluntarily as expert on
www.caclubindia.com, www.lawyersclubindia.com Providing solution(s) for educational, legal problems. Also working voluntarily education councilor online/offline to solve career related problem of normal as well as differently able persons. Also helping to solve education related problems/rights, like extra time during exam, sitting facility, writing facility etc, up till now 8 to 10 disabled persons has been helped.
Posted on : 2016-08-26